Streaming app sale!
From as low as
RM5/month
Enjoy discounts up to 60% for all these apps a la carte. Exclusive to Unifi TV Packs.
Compare here
TV Apps
Elevate your viewing experience with up to 16 streaming apps including the popular Disney+ Hotstar. Enjoy with Unifi TV Ultimate Pack, special Unifi TV Pack add-on or as a la carte. Visit https://activate.unifi.com.my​
Easy, just switch lah!
Now you have MORE choices to switch your bundled streaming apps with Unifi TV Packs! Head to "Manage My Streaming Apps" to switch for free. T&C apply.
Switch here
Latest drama with Song Joong-Ki
After Yoon Hyun-Woo was falsely accused for embezzlement and shot, he had a chance to come back to redeem himself. How would he redeem himself? Get free access to Viu with Aneka Plus Pack or add-on from RM5/month!
Get Viu app!
Aplikasi karaoke eksklusif
di unifi Plus Box
Nyanyi lebih dari 50,000 pilihan lagu dengan aplikasi MySing!
Nyanyi puas-puas!
Career or love first?
When Qin Shi was hired for her marital status, she had to quickly find a "fake" husband to protect her career. Stream the latest series on WeTV from RM5.90/month.
Get WeTV app!
Give us more on
MangoTV!
Your favourite artists from reality shows Ride On Waves and Call Me By Fire are now in new variety show spin-offs. Get free access to MangoTV app with Ruby Plus Pack.
Get MangoTV app
Drama bersiri terbaharu
Nazim Othman & Ruhainies
Mengisahkan pasangan suami isteri Khairul dan Nadia yang mempunyai cita-cita berbeza demi masa depan yang diimpikan. Langgan aplikasi iQIYI secara add-on dari RM9.90/bulan sahaja!
Dapatkan aplikasi iQIYI
Watch new season first
on TVBAnywhere+ app
Drama of unsung heroes in the forensic department with Bosco Wong and Benjamin Yuen. Get the best experience on unifi Plus Box.
Get TVB Anywhere+ app
Simply South: Home to the largest
South Indian movie library
Watch them on unifi Plus Box or mobile app when you activate your Simply South access with your TV Pack, switch or add-on.
Get Simply South app
Freshest C-dramas from iQIYI!
Stream the latest episodes of NEW LIFE BEGINS and SINCE I MET YOU exclusively on iQIYI app. Unifi TV Packs customers can switch to iQIYI for free or add-on from only RM9.90/month!
Get iQIYI app!
beIN SPORTS CONNECT
Exclusive access for Ultimate Pack subscribers on us!​
​
Stream all beIN SPORTS content on beIN SPORTS CONNECT, a multi-device player accessible on the app or web via any connected mobile device, laptop or desktop computer. Catch every minute of every match across the UEFA Champions League, UEFA Europa League, LaLiga, Serie A, Ligue 1 & more LIVE and on demand – anywhere, anytime.​
Subscribe Now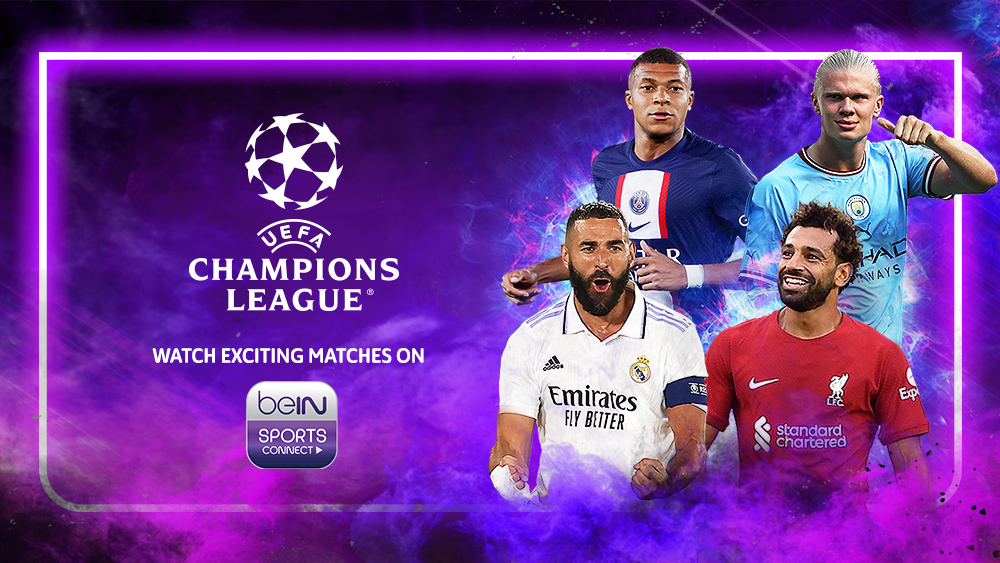 From
0
/month additional cost for Ultimate Pack
How to subscribe to beIN SPORTS CONNECT
For mobile app & web browser
Step 2
Download the app from respective app store.​
Step 3
Log in with User ID sent via email and SMS to enjoy beIN SPORTS CONNECT.​

How to enjoy beIN SPORTS CONNECT from Unifi Plus Box​
Step 1
Launch Unifi TV app from your Unifi Plus Box.​
Step 2
Go to "Apps" from menu and select beIN SPORTS CONNECT.​
Step 3
Log in with beIN SPORTS CONNECT account and following log in instruction display on your TV screen to enjoy beIN SPORTS CONNECT.​
How to enjoy beIN SPORTS CONNECT from Unifi Plus Box
Step 1
Launch Unifi TV app from your Unifi Plus Box.​
Step 2
Go to "Apps" from menu and select beIN SPORTS CONNECT.​
Step 3
Log in with beIN SPORTS CONNECT account and following log in instruction display on your TV screen to enjoy beIN SPORTS CONNECT.​