We understand that staying connected is a necessity.
That's why we strive to provide continuous support to keep you online,
for your peace of mind.
It's the unifi promise.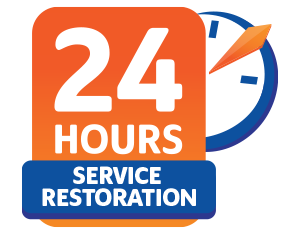 At unifi, we are committed to giving you the best connectivity experience
Below are some of the ways we show that we care

EasyFix
Self-Service
Troubleshoot easily from home
Some connectivity issues are minor and can be easily solved with a few tweaks. For these situations, our EasyFix Self-Service feature is a convenience tool that saves you time and trouble.
Self diagnose and troubleshoot for faster restoration on any connectivity issues.
Easy DIY steps to restore internet connection, telephony, and unifiTV performance.
Auto-creation of ticket (report) or access to Live Chat agent for further assistance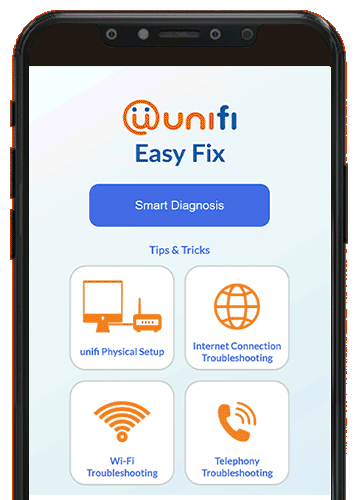 Proactive
Service Alerts
Keeping you one step ahead of issues
Our team at unifi will take the initiative to notify you of any unifi connectivity or physical service failure on TM's network in our effort to keep you informed. Rest easy with the knowledge that your connection will be restored in short order.
Via whatsapp/SMS and myunifi app...
Receive upfront alerts via SMS and myunifi app push notification on internet service failure before you even notice it.
Simplified user confirmation of service disruption to auto-create support tickets for prompt restoration.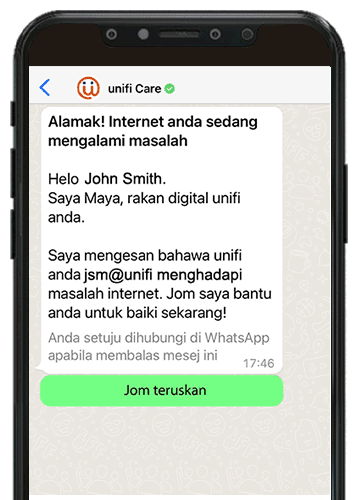 Service
Tracker
Stay updated at all times
Receive current updates on the status of your service requests. This enables you to track real-time progress of service and technical requests, including #unifiCareCrew details.
All service restoration details and progress at your fingertips.

View and track real-time progress and updates via the myunifi app.
Ability to view assigned #unifiCareCrew details.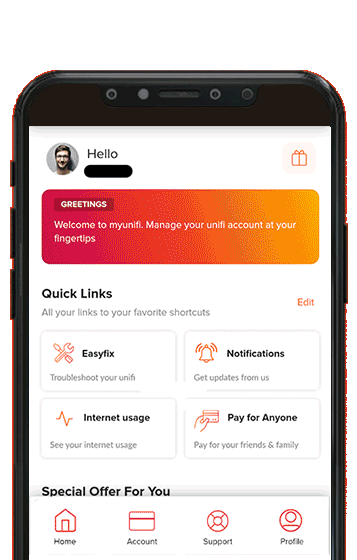 24 hrs
Service Restoration
Our commitment to reconnect you
As a final measure of our determination to serve you better, we have made a commitment to restore your connectivity within 24 hours of the creation of an official downtime report.
If we are unable to restore service within the guaranteed time, a *billing rebate will be issued, redeemable via myunifi app within 30 days.
Eligible customers will be notified via SMS and myunifi app push notification.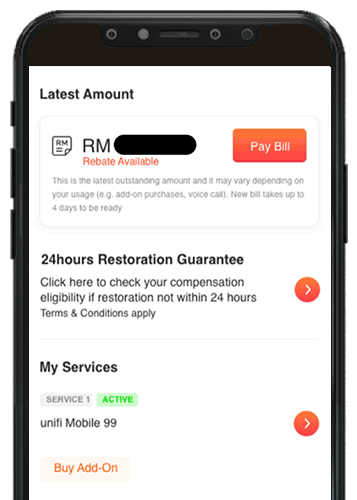 unifi
Elite Experts
Expert solutions just for you
When you encounter something that needs just that little extra care, unifi Elite Experts are here for you. These experts are highly-trained professionals focused on giving you the best possible connectivity experience, be it through detailed assessments, consultations, or troubleshooting services.
Wi-Fi consultancy, tailor-made for you by our team of experts.

No more Wi-Fi dead zones or low Wi-Fi performance in your premise with help from unifi Elite Experts.