Tips & Tricks
for your Unifi
Find out how you can improve your Unifi experience here.
Here's everything you need to know to enjoy the best Unifi experience.
Create Unifi digital ID (DigitalME)
Our Unifi portal and MyUnifi app are the platforms to manage your Unifi accounts. Create your Unifi Digital Profile to access the Unifi Self-Care portal and MyUnifi app, and enjoy a world of convenience at your fingertips.
What you can do in Unifi Self-Care and MyUnifi app:
View your monthly bill and usage in one dashboard
Discover the easiest way to pay your Unifi bills, or even pay for others, securely.
Get support or connect to EasyFix for self troubleshooting
And many more!
Create My Unifi ID
There is a difference between the two. Unifi login ID is tied to your Unifi services such as xxxabc123@unifi for internet and xxxabc123@iptv for Unifi TV. Unifi digital ID (DigitalME) is the email address that you use to register and login to your account on MyUnifi app and Unifi.com.my
---
With DigitalME Passwordless Authentication feature, you no longer need a password! Simply login with your Unifi digital ID and a One-time Pin (OTP) that is sent to the Unifi digital ID (your email address). Remember to opt for 'Trust this device' so you won't have to enter OTP each time you login from the same device.
---
Yes you can! Different email addresses can be used to set different Unifi digital ID. However, Unifi account owner's ID number (MyKad, Passport, BRN etc) is required to link the account with your Unifi digital ID.​
Need a quick fix?
Introducing EasyFix, a one-stop online troubleshooting portal where you can find easy do-it-yourself solutions for any connectivity-related issues.

Need a quick fix with any of the following?
Check if your area is impacted by any maintenance work or network outage here.
To quickly self troubleshoot your connectivity issues, click here.
If you are facing any Unifi connection issues, head on to EasyFix Self-Troubleshooting tool in MyUnifi app or you can click the links below:
---
Here are the 3 simple ways:
---
Use Mesh Wi-Fi to extend and strengthen the Wi-Fi signal. There is a Mesh Wi-Fi that suits every size of your home. Simple configurations allow you to simply plug-and-play. You are now on your way to a better state of Unifi experience!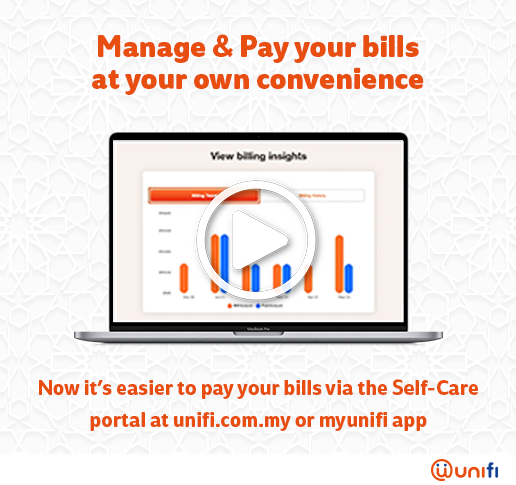 View bills
View your bills via any one of these channels of
your choice.
We will send your monthly Unifi bill to your registered email address with Unifi.
Please check your email and look for the sender from noreply@unifi.com.my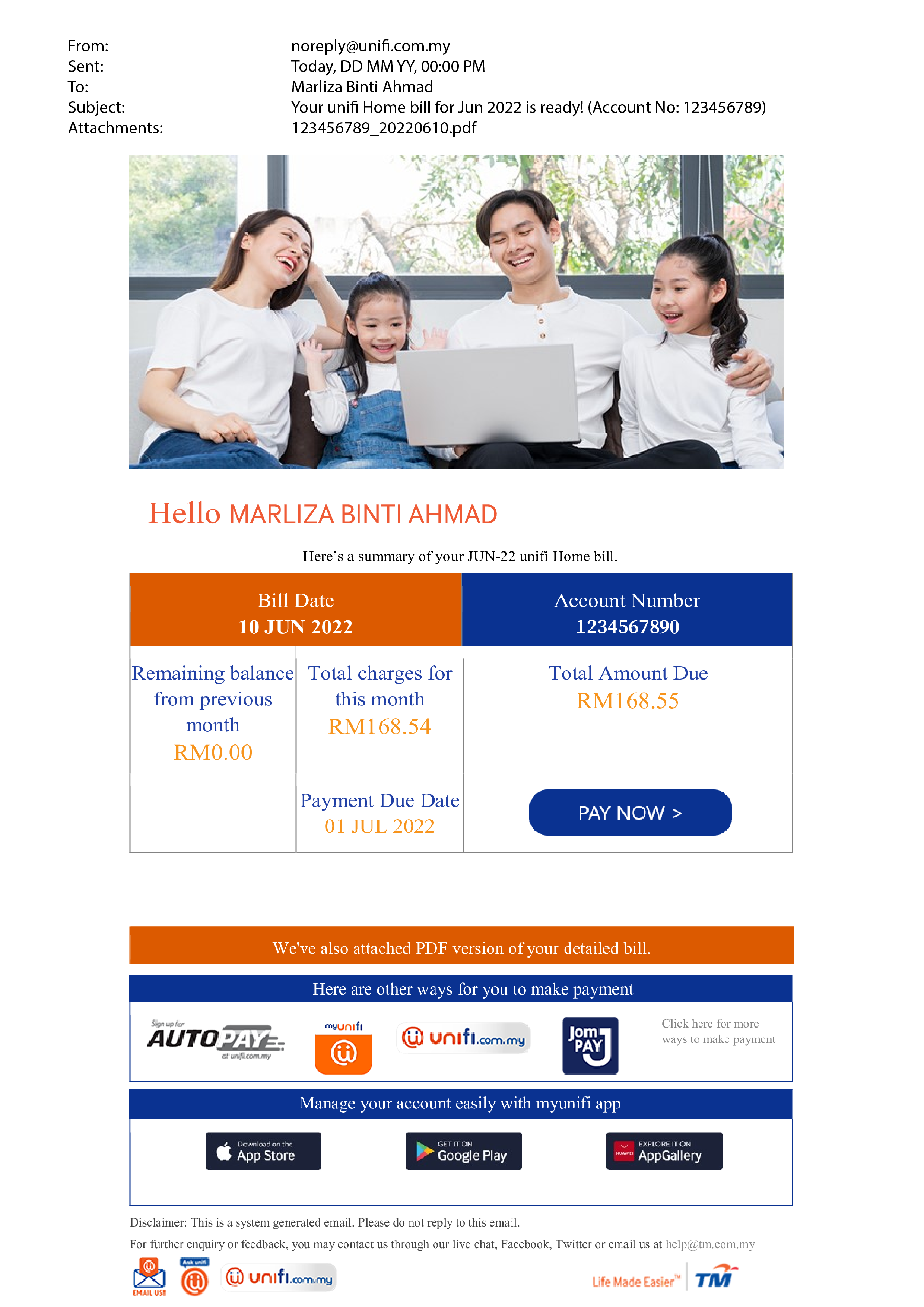 While browsing unifi.com.my, click the "My Account" button to log in to the Unifi Self-Care portal with your Unifi Digital Profile to manage your Unifi accounts, view your current bill statement and up to 6 months of your Unifi bills history.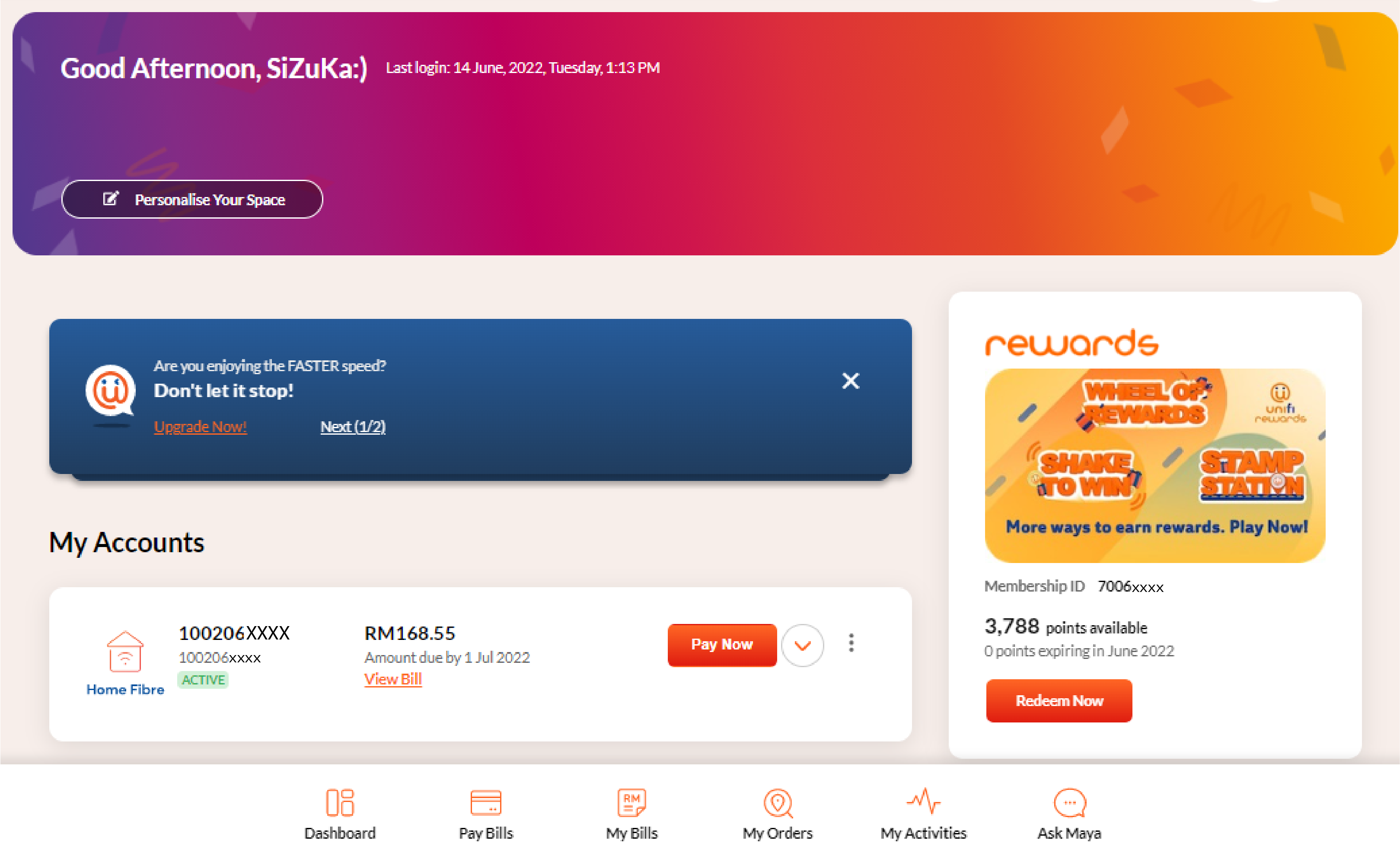 We will send your monthly bill summary to your registered mobile number with Unifi. Check your SMS for a sender from 61000. With the MyUnifi app, you can easily manage your Unifi Home™ and Unifi Mobile™ accounts anytime, anywhere. Besides, you can view and track your new request or service restoration using the MyUnifi app and get the support needed.
This step-by-step guide will help you to understand your Unifi bill better.
Click
here
---
Paying your Unifi bill is easy, click
here
to know more.
---
You are required to pay the full outstanding amount for your service to be reconnected. RM10.00 will be charged to your bill for each service reconnection.
Upon full payment made, your service will be reconnected within 30 minutes. Reboot your Unifi equipment if not reconnected.
Unifi TV
Enjoy great content for a wholesome viewing experience with over 100,000 hours of entertainment, 70+ premium channels and various streaming apps.
Activate your FREE streaming apps now with Unifi TV packs!
T&Cs apply
Activate Now
Your Unifi TV Pack information is stated in the monthly bill which is available in MyUnifi app & Unifi portal or in Unifi PlayTV app (Go to Profile > Click My Purchase)
---
For Unifi TV Media Box (STB) user:
Go to "My Profile" from the Main Menu
Click on "Manage PIN" under Profile Settings.
Click "Reset/Forgot Your Purchase PIN".
For Unifi Plus Box user, you may update the Purchase PIN in Unifi PlayTV app by following the same steps above.
---
You can view and manage your active OTT app bundle
here
and click "Manage My Streaming Apps".
Tips to make your internet faster
Boosting your internet in simple steps
How to find the right frequency for your WI-Fi
Identify & eliminateWi-Fi deadzones at home
How to know if you need a new router​