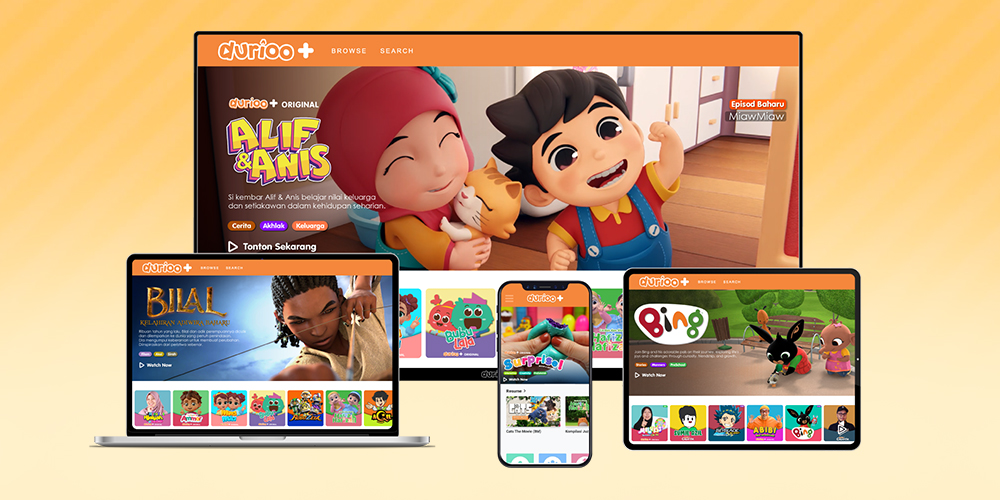 From RM8.90/month
Add-on Durioo+ with Kids Pack for only RM8.90/month
Add-on Durioo+ with other Unifi TV Packs for RM9.90/month
(RRP RM12.90)
Durioo+ offers a safe, fun and entertaining streaming platform for kids to access a wealth of values, virtues, and Islamic teachings with fresh weekly content.
Activate Now
How to subscribe to
Step 1
This streaming app is not available bundled with any Unifi TV Packs. You can enjoy special discounts when you subscribe A la Carte.
Step 2
Click here to subscribe this streaming app via 'My Entertainment' and select 'A la Carte'. Add Durioo+ and follow the steps. Also applicable via MyUnifi app.
Step 3
Upon successful activation, you will receive a confirmation email and SMS containing your login credentials.
Step 4
On your Unifi TV Box, go to 'Apps' from menu and select Durioo+. Log in with your credentials and follow the instructions displayed on your TV screen.
You can also watch at https://my.duriooplus.com on your web browser or download the app from the relevant app store. Once installed, you can immediately start enjoying your favorite content.
*If you are an existing subscriber of this streaming app, we would recommend that you terminate your current subscription first, and then subscribe to the streaming app via Unifi. This is to avoid double-charging of the same service to you.
Get on board
Get connected to a Unifi Home broadband plan or sign up via Unifi TV app and watch anytime anywhere
Explore Unifi broadband
Subscribe to a pack
Choose a TV Pack with wide range of channels and streaming apps from as low as RM30/month!
Subscribe to a pack
Manage your subscription
Head to Unifi portal to check your free entitlement, switch or add on more streaming apps or TV Pack
Manage now