How to participate
Step 1
Catch the shows on CNA (CH 611) every Tuesday at 9.00 pm on unifi TV via set-top-box (STB) or unifi Plus Box.
Step 2
Scan the iContest QR code that appears in the program via unifi PlayTV QR scanner. Contestant must register to join the contest with their unifi TV ID on unifi PlayTV app.
Step 3
Answer 3 simple questions.
Step 4
Submit your entry before the end of the Contest Period and stand a chance to win!
Prizes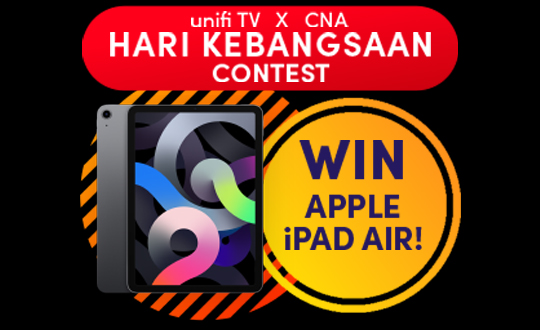 3x
Apple iPad Air 64 GB WiFi from CNA HD
You may also like
unifi TV x now Jelli PERFECT MATCH iContest
Scan & Win Exclusive merchandise from now Jelli!
Contest Period: 22 June – 10 July 2021
unifi TV x Blue Ant Extreme HOTEL PARANORMAL iContest
Catch HOTEL PARANORMAL, Thursdays at 9:55pm on Blue Ant Extreme HD and stand a chance to win exclusive Blue Ant Extreme merchandise!
Contest Period: 1 July– 15 July 2021