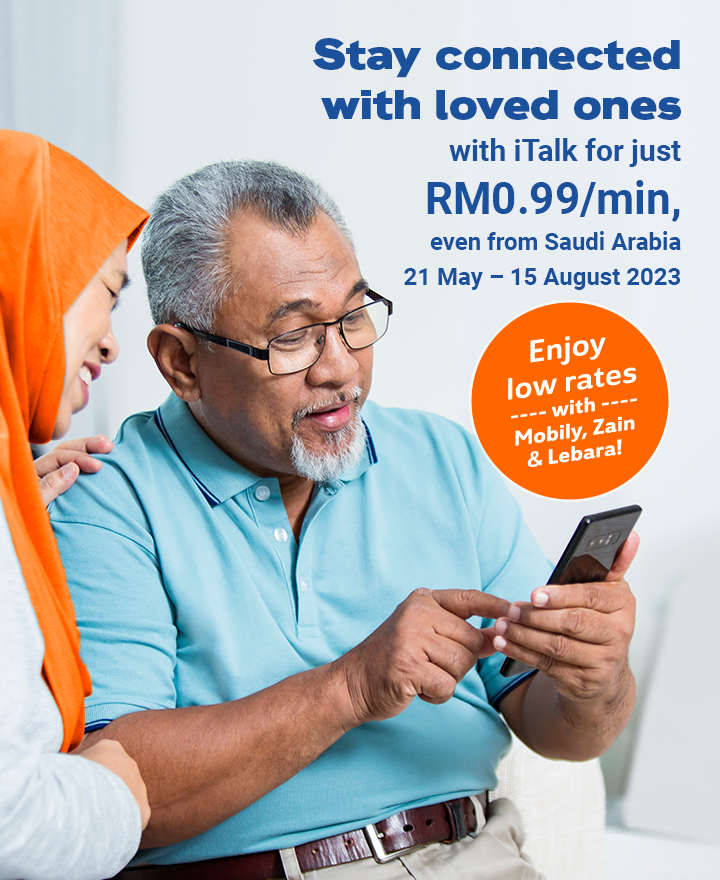 iTalk
Get connected with friends and family at home or overseas with iTalk, a prepaid calling card that allows you to make calls from your mobile and fixed lines. Available in denominations of RM10, RM20, RM30 and RM50, you can make national (STD) and international calls with even greater savings anytime, anywhere.

Enjoy these benefits!
Enjoy cheaper national and international call rates with continuous rates discounts to selected countries
Simple voice instruction
Two language options for user to choose
You are able to make calls to and from overseas with iTalk
Easy to use - registration of up to 5 different telephone numbers that allows you to make calls without having to key in lengthy card or pin numbers.
Reloadable for home prepaid and Prepaid Access Line (PAL).
Activation validity period :90 days
New reload validity period :90 days
Denominations value available in RM10 , RM20 & RM30
Activation validity period :90 days
New reload validity period :90 days
Denominations value available in RM10, RM20, RM30 & RM50
*Price shown is exclusive of 6% Service Tax
Where to Buy
TMpoint Outlets
All TMpoint outlets displaying the iTalk or e-pay signage
Online Purchases
Via Maybank2U, RHB Bank & CIMB Clicks
ATM
iTalk is now available at Maybank ATMs
Participating handphone outlets:
• 7-Eleven
• Petrol Marts
• Photo shops
• Pos Malaysia
• One-Pay
• Mini markets
iTalk Rates
Domestic Rates
| | | |
| --- | --- | --- |
| Domestic Rates (sen per min) | From Fixed Line | From Mobile |
| Call made from Fixed Line | 0.15 | 0.17 |
| Call made from Mobile | 0.24 | 0.25 |
From Overseas To Malaysia
Country
Alaska
Argentina
Australia
Austria
Azerbaijan
Bahrain
Bangladesh
Belgium
Botswana 2
Brunei
Cambodia
Canada
Chile
China
Cyprus
Denmark
Egypt
Finland
France
Germany
Ghana
Hong Kong
Iceland
India
Indonesia
Indonesia XL
Indonesia TELEKOM SEL
Indonesia INDOSAT
Indonesia 8
Iran
Iraq
Ireland
Italy
Japan
Jordan
Kuwait
Laos
Lebanon
Libya
Luxembourg
Macau
Malawi
Maldives
Mauritius
Mexico
Morocco
Myanmar
Nepal
Netherlands
New Zealand
Nigeria
Norway
Oman
P. New Guinea
Pakistan
Philippines
Philippines
Poland
Portugal
Qatar
Reunion IS
Russia
Saudi Arabia
Singapore
South Africa
South Korea
Spain
Sri Lanka
Sudan
Sweden
Switzerland
Syria
Taiwan
Thailand
Turkey
UAE
United Kingdom
Ukraine
USA
Uzbekistan
Vietnam
Yemen
Zambia
Zimbabwe
Country
Alaska
Argentina
Australia
Austria
Azerbaijan
Bahrain
Bangladesh
Belgium
Botswana 2
Brunei
Cambodia
Canada
Chile
China
Cyprus
Denmark
Egypt
Finland
France
Germany
Ghana
Hong Kong
Iceland
India
Indonesia
Indonesia XL
Indonesia TELEKOM SEL
Indonesia INDOSAT
Indonesia 8
Iran
Iraq
Ireland
Italy
Japan
Jordan
Kuwait
Laos
Lebanon
Libya
Luxembourg
Macau
Malawi
Maldives
Mauritius
Mexico
Morocco
Myanmar
Nepal
Netherlands
New Zealand
Nigeria
Norway
Oman
P. New Guinea
Pakistan
Philippines
Philippines
Poland
Portugal
Qatar
Reunion IS
Russia
Saudi Arabia
Singapore
South Africa
South Korea
Spain
Sri Lanka
Sudan
Sweden
Switzerland
Syria
Taiwan
Thailand
Turkey
UAE
United Kingdom
Ukraine
USA
Uzbekistan
Vietnam
Yemen
Zambia
Zimbabwe
Country
Alaska
Argentina
Australia
Austria
Azerbaijan
Bahrain
Bangladesh
Belgium
Botswana 2
Brunei
Cambodia
Canada
Chile
China
Cyprus
Denmark
Egypt
Finland
France
Germany
Ghana
Hong Kong
Iceland
India
Indonesia
Indonesia XL
Indonesia TELEKOM SEL
Indonesia INDOSAT
Indonesia 8
Iran
Iraq
Ireland
Italy
Japan
Jordan
Kuwait
Laos
Lebanon
Libya
Luxembourg
Macau
Malawi
Maldives
Mauritius
Mexico
Morocco
Myanmar
Nepal
Netherlands
New Zealand
Nigeria
Norway
Oman
P. New Guinea
Pakistan
Philippines
Philippines
Poland
Portugal
Qatar
Reunion IS
Russia
Saudi Arabia
Singapore
South Africa
South Korea
Spain
Sri Lanka
Sudan
Sweden
Switzerland
Syria
Taiwan
Thailand
Turkey
UAE
United Kingdom
Ukraine
USA
Uzbekistan
Vietnam
Yemen
Zambia
Zimbabwe
Country
Alaska
Argentina
Australia
Austria
Azerbaijan
Bahrain
Bangladesh
Belgium
Botswana 2
Brunei
Cambodia
Canada
Chile
China
Cyprus
Denmark
Egypt
Finland
France
Germany
Ghana
Hong Kong
Iceland
India
Indonesia
Indonesia XL
Indonesia TELEKOM SEL
Indonesia INDOSAT
Indonesia 8
Iran
Iraq
Ireland
Italy
Japan
Jordan
Kuwait
Laos
Lebanon
Libya
Luxembourg
Macau
Malawi
Maldives
Mauritius
Mexico
Morocco
Myanmar
Nepal
Netherlands
New Zealand
Nigeria
Norway
Oman
P. New Guinea
Pakistan
Philippines
Philippines
Poland
Portugal
Qatar
Reunion IS
Russia
Saudi Arabia
Singapore
South Africa
South Korea
Spain
Sri Lanka
Sudan
Sweden
Switzerland
Syria
Taiwan
Thailand
Turkey
UAE
United Kingdom
Ukraine
USA
Uzbekistan
Vietnam
Yemen
Zambia
Zimbabwe
Country
Alaska
Argentina
Australia
Austria
Azerbaijan
Bahrain
Bangladesh
Belgium
Botswana 2
Brunei
Cambodia
Canada
Chile
China
Cyprus
Denmark
Egypt
Finland
France
Germany
Ghana
Hong Kong
Iceland
India
Indonesia
Indonesia XL
Indonesia TELEKOM SEL
Indonesia INDOSAT
Indonesia 8
Iran
Iraq
Ireland
Italy
Japan
Jordan
Kuwait
Laos
Lebanon
Libya
Luxembourg
Macau
Malawi
Maldives
Mauritius
Mexico
Morocco
Myanmar
Nepal
Netherlands
New Zealand
Nigeria
Norway
Oman
P. New Guinea
Pakistan
Philippines
Philippines
Poland
Portugal
Qatar
Reunion IS
Russia
Saudi Arabia
Singapore
South Africa
South Korea
Spain
Sri Lanka
Sudan
Sweden
Switzerland
Syria
Taiwan
Thailand
Turkey
UAE
United Kingdom
Ukraine
USA
Uzbekistan
Vietnam
Yemen
Zambia
Zimbabwe
From Fixed Line
From Mobile
Country
Code
Fixed
Mobile
Fixed
Mobile
Alaska
1-907
0.40
0.40
0.65
0.65
Argentina
54
0.55
0.55
1.20
1.20
Australia
61
0.33
0.90
0.40
1.00
Austria
43
0.55
1.08
0.47
1.30
Azerbaijan
994
1.20
1.20
1.35
1.35
Bahrain
973
1.10
1.10
1.25
1.25
Bangladesh
880
0.60
0.60
0.60
0.60
Belgium
32
0.30
1.05
0.43
1.30
Botswana 2
67
1.35
1.35
1.50
1.58
Brunei
673
0.35
0.45
0.70
0.70
Cambodia
855
1.20
1.20
1.35
1.35
Canada
1
0.15
0.15
0.35
0.35
Chile
56
0.55
1.00
0.83
1.23
China
86
0.12
0.12
0.33
0.33
Cyprus
357
0.95
1.35
1.20
1.55
Denmark
45
0.20
0.95
0.40
1.18
Egypt
20
0.90
0.90
1.05
1.05
Finland
358
0.45
1.00
0.47
1.20
France
33
0.20
0.85
0.43
1.20
Germany
49
0.20
1.15
0.43
1.35
Ghana
233
0.95
0.95
1.25
1.25
Hong Kong
852
0.15
0.15
0.35
0.35
Iceland
354
0.60
0.83
0.80
0.82
India
91
0.55
0.55
0.55
0.55
Indonesia
62
0.35
0.35
0.35
0.35
Indonesia XL
62
N/A
0.40
N/A
0.55
Indonesia TELEKOM SEL
62
N/A
0.50
N/A
0.60
Indonesia INDOSAT
62
N/A
0.50
N/A
0.60
Indonesia 8
62
N/A
0.55
N/A
0.65
Iran
98
1.30
1.30
1.50
1.50
Iraq
964
1.40
1.40
1.55
1.55
Ireland
353
0.22
1.10
0.47
1.33
Italy
39
0.38
1.10
0.47
1.33
Japan
81
0.20
0.85
0.35
1.10
Jordan
962
1.10
1.10
1.25
1.25
Kuwait
965
1.00
1.00
1.00
1.00
Laos
856
0.75
0.75
0.90
0.90
Lebanon
961
1.50
1.50
1.65
1.65
Libya
218
1.80
1.80
2.00
2.00
Luxembourg
352
0.35
1.10
0.55
1.25
Macau
853
0.75
0.75
0.90
0.90
Malawi
265
0.99
0.99
1.20
1.20
Maldives
960
1.50
1.50
1.65
1.65
Mauritius
230
1.20
1.20
1.35
1.35
Mexico
52
0.70
0.70
0.90
0.90
Morocco
212
1.80
1.80
2.00
2.00
Myanmar
95
1.45
1.45
1.50
1.50
Nepal
977
1.30
1.30
1.50
1.50
Netherlands
31
0.20
1.35
0.43
1.58
New Zealand
64
0.20
1.00
0.35
1.30
Nigeria
234
1.50
1.50
1.65
1.65
Norway
47
0.22
0.90
0.47
1.20
Oman
968
1.20
1.20
1.35
1.35
P. New Guinea
675
1.55
1.55
1.60
1.60
Pakistan
92
0.55
0.55
0.55
0.55
Philippines
63
0.75
0.75
0.85
0.85
Philippines
63
0.75
0.75
0.85
0.85
Poland
48
0.55
1.10
0.90
1.30
Portugal
351
0.70
1.05
0.90
1.40
Qatar
974
1.45
1.90
2.00
2.00
Reunion IS
262
1.45
1.80
2.00
2.00
Russia
7
0.75
0.75
0.90
0.90
Saudi Arabia
966
1.05
1.05
1.20
1.20
Singapore
65
0.10
0.10
0.30
0.30
South Africa
27
0.60
0.78
0.80
0.80
South Korea
82
0.20
0.40
0.35
0.60
Spain
34
0.22
1.30
0.70
1.20
Sri Lanka
94
1.00
1.00
1.10
1.10
Sudan
249
1.90
1.90
2.00
2.00
Sweden
46
0.20
1.05
0.43
1.28
Switzerland
41
0.20
1.30
0.40
1.50
Syria
963
1.90
1.90
2.00
2.00
Taiwan
886
0.16
0.50
0.30
0.70
Thailand
66
0.35
0.39
0.55
0.55
Turkey
90
1.00
1.50
1.20
1.70
UAE
971
1.05
1.05
1.25
1.25
United Kingdom
44
0.15
0.85
0.20
1.00
Ukraine
380
1.10
1.10
1.25
1.25
USA
1
0.15
0.15
0.30
0.30
Uzbekistan
998
1.90
1.90
2.00
2.00
Vietnam
84
1.10
1.10
1.10
1.10
Yemen
967
2.80
2.80
3.00
3.00
Zambia
260
1.80
1.80
2.00
2.00
Zimbabwe
263
1.08
1.08
1.30
1.30
From Malaysia to Overseas
| | | |
| --- | --- | --- |
| Country | Rates | Access Number |
| Argentina (Telintar Norte) | 6.00 | 0 800 888 0340 |
| Argentina (Telintar Sur) | 6.00 | 0 800 222 0060 |
| Australia (Optus) | 1.00 | 1 800 55 1160 |
| Australia (Telstra) | 1.00 | 1 800 88 1600 |
| Austria | 1.50 | 0 800 200 220 |
| Bahrain | 1.50 | 800 000 60 |
| Canada (AT&T) | 1.30 | 1 888 882 9547 |
| Canada (Teleglobe) | 1.30 | 1 800 663 6817 |
| China (China Netcom) | 1.30 | 108 600 |
| China (China Telecom) | 1.30 | 1082 600 |
| Denmark | 1.00 | 800 100 60 |
| Egypt | 1.70 | 365 4188 |
| Finland | 1.00 | 0 800 110 600 |
| France | 0.60 | 0800 99 00 60 |
| Germany | 1.20 | 0 800 08000 60 |
| Greece | 2.20 | 008 00 60 311 |
| Hong Kong | 1.00 | 800 96 0060 |
| India | 1.60 | 000 60 17 |
| Indonesia | 2.00 | 001 801 60 |
| Ireland | 3.50 | 1 800 55 00 60 |
| Italy | 1.50 | 800 172 600 |
| Japan (KDD) | 1.20 | 0053 9601 |
| Japan (JT) | 1.20 | 0044 11 601 |
| Japan (IDC) | 1.20 | 00 66 55 600 |
| Japan (NTT) | 1.20 | 0034 811 360 |
| Korea (Korea Telecom) | 1.30 | 0072 20 60 |
| Korea (Dacom) | 1.30 | 0030 9 60 1 |
| Korea (Onse) | 1.30 | 00369 600 |
| Macau | 2.50 | 0800 600 |
| Malta | 7.50 | 800 90600 |
| Monaco | 5.00 | 800 900 60 |
| Netherlands | 1.60 | 0800 022 1960 |
| New Zealand (TNZ) | 0.50 | 000 960 |
| New Zealand (Clear) | 0.50 | 0800 88 60 60 |
| Pakistan | 1.80 | 00 800 11060 |
| Philippines (PLDT) | 1.20 | 105 60 |
| Philippines (Philcom) | 1.20 | 102 660 |
| Philippines (ETPI) | 1.20 | 1066 060 |
| Philippines (Capwire) | 1.20 | 104 0160 |
| Russia | 1.50 | 8 10 800 110 1060 |
| Saudi Arabia | 1.80 | 1800 60 |
| Saudi Arabia | 1.80 | 1800 69 |
| Singapore (Singtel) | 1.00 | 8000 600 600 |
| Singapore | 1.00 | 800 0 0600 00 |
| Slovak Republic | 5.00 | 0 800 0060 00 |
| South Africa | 1.50 | 0800 99 0060 |
| Spain | 1.00 | 900 9900 60 |
| Taiwan | 0.40 | 00801 6000 60 |
| Thailand (TOT) | 1.70 | 1800 00 60 99 |
| Thailand (CAT) | 1.70 | 001 999 60 1000 |
| Thailand | 1.70 | 1 800 060 210 |
| Turkey | 1.60 | 008 00 60 1177 |
| United Arab Emirates | 1.80 | 0 800 11 60 |
| United Kingdom (BT) | 0.60 | 0800 89 00 60 |
| United Kingdom (C&W) | 0.60 | 0800 559 31 60 |
| USA (ATT) | 0.30 | 1 800 772 7369 |
| USA (MCI) | 0.30 | 866 365 8252 |
| USA (SPRINT) | 0.30 | 1800 473 6011 |
| USA (AMERITECH) | 0.30 | 1 888 285 8103 |